Is DIY Security Safe?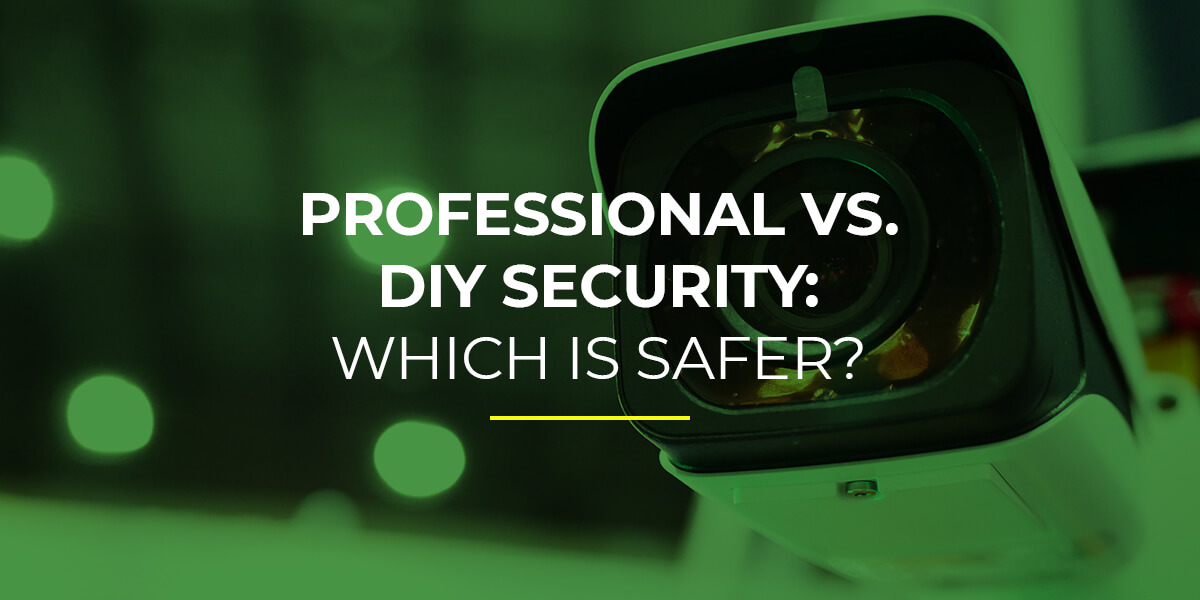 If you want to increase the security of your home or business facility, you've probably already identified the two installation methods typically used for new security devices — do-it-yourself (DIY) or having a professional install the system for you.
DIY security systems mean you install everything. You also need to determine where cameras and other components will fit and work best — which can be more challenging than it seems.
Alternatively, when you opt for professional installation, experienced technicians can help you design and install a security system that fulfills your specific needs. Professionally installed systems ensure correct equipment set up and offer helpful integration with other innovative technology. You also benefit from professional monitoring and maintenance after the installation is complete.
Should You Install Your Own Security System?
Tech-savvy home and business owners may feel comfortable in their knowledge level and decide to DIY. Meanwhile, homeowners with limited tech knowledge, buildings with multiple residents or larger, multilevel houses typically require expert installation to ensure safe and operational security.
Cost, monitoring style, overall protection and other differences may motivate you toward one side of the DIY vs. professional home security debate. Most equipment used to protect your property will have similar capabilities and features, but your home's safety relies heavily on the devices and services you choose.
Is DIY Security Safe?
If you're researching DIY solutions to security, inexpensive security cameras may catch your eye. But are cheap security cameras safe? The short answer is no. Many models and brands that are available on the market can have critical security flaws. Even products with positive reviews can have underlying risks, making it challenging for homeowners to ensure a safe DIY security system.
When security products have critical security flaws — like weak default passwords and unencrypted data — they make it easy for hackers to breach the local internet network or even potentially gain control of the camera or other system components. Even quality equipment with strong passwords and two-factor authentication can experience other safety issues during installation and monitoring. For example, DIY installation typically uses self-monitoring, which means a potential safety problem may go unnoticed for an extended length of time. When an issue arises, you want a quick and effective response. DIY also cannot guarantee a working system or 24/7 security monitoring like many professional services.
Other Disadvantages of DIY Security
Here are a few more reasons why you might reconsider your DIY home security plans:
Security systems are more challenging to self-install in large, multilevel buildings: Most security equipment will operate on a wireless network separate from your home's Wi-Fi. You must ensure all components are working as they should be and are correctly connected to your monitoring system during installation. The larger the building, the more challenging it is to create an optimal and functioning system configuration.
It is harder to maintain the system when you have no one to call if issues arise: If a problem occurs, you will be responsible for finding and fixing it. This process can require time that you aren't prepared to spend, leaving your home or business vulnerable for an extended period until you can correct the issue.
All equipment may need to be purchased upfront without expert recommendation: Some security equipment, especially cameras, can be sold to consumers without proper security measures in place. This lack of quality control makes it challenging to know if you've purchased the best products for your needs. Even an abundance of positive reviews cannot guarantee a product's safety.
Sufficient research is needed to ensure the best quality equipment: Because numerous models and brands are available for each component, it can take some time and effort to gather everything you need. The most affordable may not be the most secure.
DIY security systems are at greater risk of improper installation, leaving you vulnerable: The average person may not know how to locate and address all possible security threats. Any unprotected or nonfunctioning areas in the home security system can easily go unnoticed after the DIY installation is complete.
The home or business owner is responsible for any repairs and replacements: DIY security lacks the same protection and warranty offered by professional security alternatives. Equipment repairs and replacements occur more frequently with DIY security.
Monitoring for prevention can be unreliable or come with an additional fee: Self-monitoring is less reliable than most professional monitoring alternatives. Many owners are unable to dedicate their time to monitoring security 24/7. While some DIY systems offer professional security monitoring for an added fee, it's often more beneficial to let professionals handle the entire job.
Is It Worth It to Invest in Professional Security?
Professional security installation is a worthwhile investment, especially for businesses and multilevel homes. A technician will ensure correct installation and quality equipment so that you have peace of mind knowing your family, employees, equipment, information and other valuables are safe. Consider hiring a professional who will provide customized security that protects all your home's vulnerabilities.
While home security DIY allows you to become accustomed to different electronic security devices at your pace, a professional company provides more immediate and expansive protection for residential properties. Keep your business and employees safe with full-time protection and comprehensive commercial security solutions.
Benefits of Professional Security
Some of the benefits of having a professional vs. DIY security system include:
Increased safety: You gain greater assurance that the system is installed correctly and receive alerts about property breaches right to your phone, keeping any residents and valuable assets safe.
Reliable monitoring: Professional security has more reliable monitoring for prevention — some services even offer 24/7 protection and guard response. They can immediately notify authorities of unauthorized behaviors and emergencies.
Higher quality: With a professional system, you can effectively combine all of your security alarm, surveillance and monitoring needs. You receive professional monitoring services and the ability to view any of your cameras anytime, anywhere from any mobile device.
More experience: Technicians have the experience and knowledge necessary to make helpful recommendations and answer any questions. Ensure that safe, well-known brands are installed correctly and that all of your property's vulnerabilities are secure.
Customized design: Your system is customized to your specific circumstances and requirements, providing more effective protection. Add security alarms, surveillance, artificial intelligence video analytics and more.
Integration options: It's easier to integrate your security system with sensors, smoke detectors, fire systems, access control and other add-on equipment.
Easier maintenance: Your system provider typically covers routine maintenance, ensuring your equipment remains operational and that any issues are addressed before more significant damage occurs. If something does go awry, they can also troubleshoot the issue for you and fix the problem as quickly as possible.

Trust Security Monster to Keep Your Property Secure
At Security Monster, we have over 15 years of experience installing innovative security solutions for residential and commercial properties. You can feel total peace of mind with our 24/7 security monitoring and guard response services. Contact us today to learn more about how a Security Monster system can provide the protection you need for your home or business.
Share: