I have security monster at all of my store locations and now I have their protection at my home. Veronica in the office is very patient and amazing. Shannon was my installer and does a very professional job. The finish work of all of the equipment is perfect. If I thought I could steal her to work for me, I would!!!!!
Installation was smooth and very little disruption to our community. The installers were courteous and friendly. The cameras are amazing and now I can monitor our building from anywhere. The system is easy to use and I was up and running in very little time. Thank you Security Monster. I will definitely recommend you to others looking for a quality system.
Shaun Simpkins
2021-07-26
Stephanie was a great help in supplying me the specialized parts I needed to complete moving a central vacuum in my garage. It's good to have a local source of central vacuum equipment in Eugene.
Shannon was working on a ladder when I approached her regarding my alarm, she was very pleasant and knowledgable. We have had problems with the sensor triggering alarm alerts the last few months. She immediately answered my questions regarding changing out the sensor. She installed a new light and sensor in the driveway, and we have had no issues since her past visit. Security Monster does a great job
Very professional staff !
We had multiple security cameras installed by Security Monster. High quality work done by knowledgeable techs. And the few times that we have needed it, their tech support has been excellent. Highly recommend them.
Choose a Live Video Monitoring Company in Eugene, OR
Security Monster handles the entire installation and setup so you can get back to running your business and working on what you do best. We handle the complete implementation of all technology components, including cameras, alarm systems and wiring. Before we begin the installation, we'll meet with you to discuss your security goals and analyze your building's layout. We then install the necessary components, prepare for monitoring and provide you with remote security options for your phone.
Our 24/7 monitoring service for businesses uses a UL-listed Five Diamond Certified Central Power Station to combine all your computer networks, cameras, alarms and more. You can get a comprehensive overview of your security situation while receiving backup power. Our operators are hyperalert to security threats and notify security guards immediately should a breach occur. We send our own guards to the scene and notify the authorities if the situation escalates.
In addition to our 24/7 monitoring services, you can view your security system's integrated components right at your fingertips using our highly organized app. Control your cameras, alarms and video monitors from your device to make real-time decisions and determine if an alarm is false or a cause for concern. You'll always have the insight necessary to make quick decisions with Security Monster.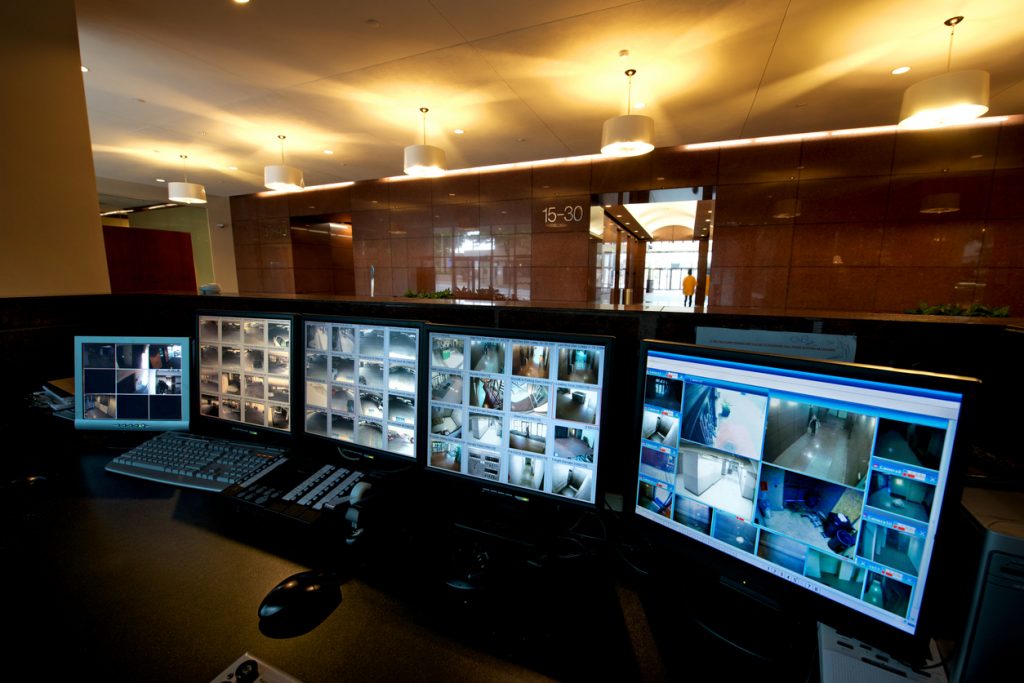 Video Monitoring Features
When you choose Security Monster, you partner with a firm that has over 15 years of security experience. Unlike a do-it-yourself monitoring system, Security Monster's solutions allow you to double down on security with a company that's always ready to send assistance and provide technological support. As a local live video monitoring company, we can arrive at your business faster than the competition. From our installation process to our central station monitoring services, we're ready to set up your entire system and send help whenever you need it.
Security Monster offers more than just central station monitoring systems. We're a complete provider of commercial tech and security upgrades, allowing you to bring your infrastructure and equipment into the future. We also offer artificial intelligence (AI) and video analysis upgrades that boost your monitoring equipment's power and let you perform advanced monitoring tasks in minutes. Security Monster provides the following commercial business upgrades for your company:
Phone blocks
Ladder racks
Patch panels
Fire alarm systems
Wiring and cabling upgrades
With Security Monster, you can gain the ultimate peace of mind knowing your business is consistently protected and ready to combat intruders. From performing commercial monitoring services to integrating smart technology, our experts are ready to design a comprehensive security solution that keeps you covered from anywhere in the world. Protect yourself against any oncoming security risks when you invest in solutions from Security Monster.
We Offer 24/7 Security Monitoring
Our UL listed and Five Diamond Certified Central Station offers redundant communications, computer networks, alarm receiving equipment along with backup power. Our operators are live 24/7 monitoring your security system.
Guard Response
We offer real security guards to respond to your alarms. Upon arriving, they check your home to make sure all is well and notify authorities if there needs any escalation. Always be ready for a security breach with security guard response services from Security Monster.
Apps at Your Fingertips
Reduce false alarms and improve alarm response! Apps like Priority Group Chat to communicate with your employees and Remote Services Apps allow you to identify exactly what's going on at your business while you're not there.