We're a Professional, Licensed Security Installer Serving Oregon
Are you looking to enhance the safety of your residential or commercial property in Oregon? A security system installation by the Eugene, OR-based company Security Monster can protect your home or business from threats such as burglary, fire, vandalism and internal theft, giving you more peace of mind. You'll receive top-notch service from a local, family-owned company that's been protecting people and their valuable assets for more than 15 years.
Home Security Installation in Oregon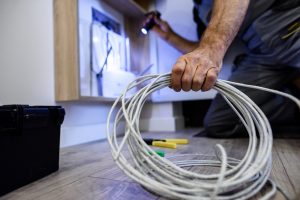 Security Monster can design and install a comprehensive residential security solution that keeps your family and property safe 24 hours a day. We're experts at security camera installation, we've installed security cameras in homes across Oregon. With our video monitoring, video doorbells and other technologically advanced surveillance equipment, keeping an eye on your home has never been easier. We can also install state-of-the-art alarm systems to provide the crucial early warning that makes a difference when a fire, break-in or other threat occurs.
We support our home security installations with 24/7 monitoring — we'll even dispatch guards to the scene when there's a property breach. You can use your mobile device to manage your system and monitor your home remotely.
Oregon Commercial Security Installation
Security Monster can provide everything you need to protect your place of business and your employees and customers. A closed-circuit television (CCTV) installation enables you to monitor the premises and helps combat internal theft. Our access control solutions allow you to prevent unauthorized personnel from entering the property and keep employees out of off-limits areas. Additionally, our advanced COVID-19 pandemic technology helps you create a healthier work environment.
Other services we provide include fire alarm system design and installation and annual inspections. We can even handle all the cabling and wiring for your business's communication systems.
I have security monster at all of my store locations and now I have their protection at my home. Veronica in the office is very patient and amazing. Shannon was my installer and does a very professional job. The finish work of all of the equipment is perfect. If I thought I could steal her to work for me, I would!!!!!
Installation was smooth and very little disruption to our community. The installers were courteous and friendly. The cameras are amazing and now I can monitor our building from anywhere. The system is easy to use and I was up and running in very little time. Thank you Security Monster. I will definitely recommend you to others looking for a quality system.
Shaun Simpkins
2021-07-26
Stephanie was a great help in supplying me the specialized parts I needed to complete moving a central vacuum in my garage. It's good to have a local source of central vacuum equipment in Eugene.
Shannon was working on a ladder when I approached her regarding my alarm, she was very pleasant and knowledgable. We have had problems with the sensor triggering alarm alerts the last few months. She immediately answered my questions regarding changing out the sensor. She installed a new light and sensor in the driveway, and we have had no issues since her past visit. Security Monster does a great job
Very professional staff !
We had multiple security cameras installed by Security Monster. High quality work done by knowledgeable techs. And the few times that we have needed it, their tech support has been excellent. Highly recommend them.
About Our Security Installation Process
At Security Monster, our goal is to provide a solution that helps you overcome your most daunting security challenges. We'll start by coming to your home or business to assess the layout and identify your property's most vulnerable areas. We'll then work with you to design a system containing the ideal combination of cameras, alarms and other technologies based on your needs and budget.
Once we've designed your system, we'll perform a fast, professional installation that minimizes disruptions to your family's lifestyle or your business operations. After finishing the setup, we'll show you how to use the equipment, including how to use your mobile device to control and monitor its functions remotely.
Why Choose Security Monster?
When you partner with us for your home or business security installation needs in Eugene, OR, and beyond, you get:
Professional 24/7 monitoring from a UL-Listed Five Diamond Central Station.
Access to reliable technical support whenever you need it.
No long-term contracts or extended commitments.
Clear pricing and payment options that eliminate confusion. 
Same-day service for your convenience.
Get a Quote from the Security Experts
Call Security Monster today at 541-342-8111 to learn more about our security installation services in Eugene, OR, and the surrounding areas. You can also request information online by filling out and returning our contact form.