Commercial Security Alarm Monitoring Installation in Eugene, OR
At Security Monster, our experts specialize in designing and installing custom alarm systems for commercial businesses. We constantly stay on the edge of the most innovative security solutions. You can rest assured your business alarm system will be state-of-the-art and last for many years. With our professional design and installation services, your system will be cleanly implemented and well-wired to handle all your future technology and security needs.
We begin the commercial security alarm design process with a brief consultation where we examine your business's layout and learn about the goals you want to implement. After we have evaluated your building's design, we will walk you through the best alarm solutions for your business and present you with any additional technology complementing your security goals. Once we have installed commercial alarms, we'll walk you through monitoring options, how to use your equipment, and link it to your phone.
Our alarms can work with your other security equipment to bring you more complete protection. Security Monster can link your alarms to your security camera and phone notification system if desired. We also specialize in central monitoring systems — your business will always have another partner looking out for it. Our central professional monitoring system services use a UL-listed Five Diamond Certified Central Station to monitor your alarms and computer networks. If an alarm is triggered, we send guards to secure your establishment.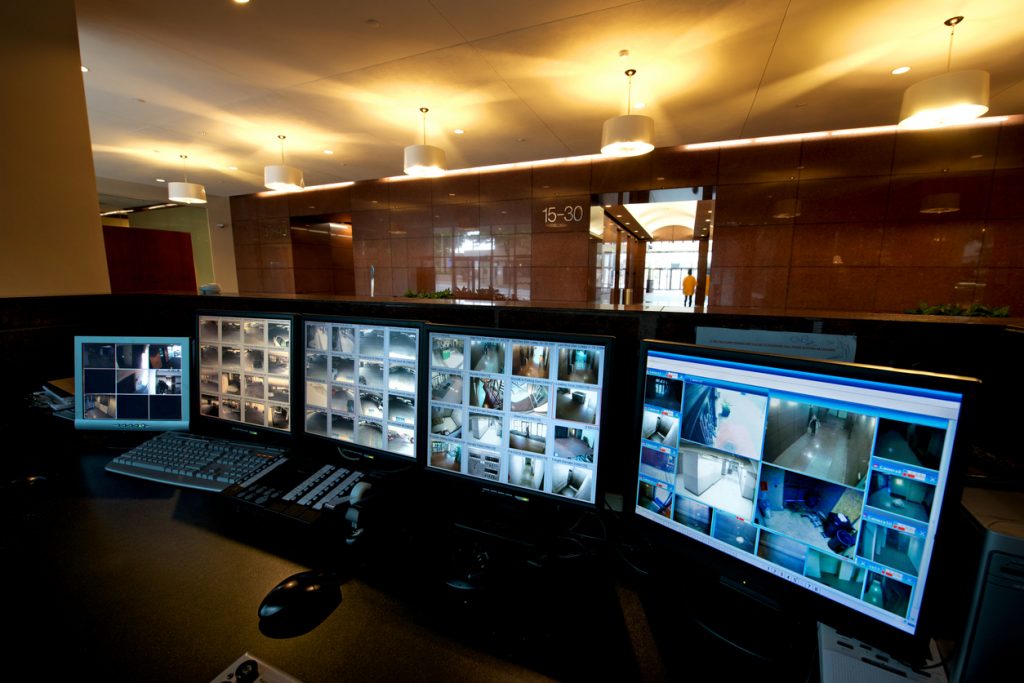 Why Choose Security Monster?
We have over 15 years of experience strengthening the security of businesses around Eugene, OR. Our technology helps you prepare your enterprise for the future of security technology while keeping your staff and customers safe. All of our technology works in concert so you can get continuous real-time insights into your building's current situation. Besides security products, we also offer wiring and cabling upgrades for your growing technology needs and fire alarms to help safeguard your staff and property.
Compared to do-it-yourself alarm systems, Security Monster goes above and beyond to provide you access to a team of experts who are always ready to help when you require technical support or assistance in an emergency. We offer central station monitoring so you can relax knowing a professional security company is always watching your property. When you choose Security Monster central station monitoring, we'll instantly dispatch local authorities and security guards if the situation escalates.
You can improve your employees' and customers' safety when you partner with Security Monster for an alarm system today. From technology upgrades to commercial security systems and central station monitoring, Security Monster helps you prepare for future safety threats and tech demands.
I have security monster at all of my store locations and now I have their protection at my home. Veronica in the office is very patient and amazing. Shannon was my installer and does a very professional job. The finish work of all of the equipment is perfect. If I thought I could steal her to work for me, I would!!!!!
Installation was smooth and very little disruption to our community. The installers were courteous and friendly. The cameras are amazing and now I can monitor our building from anywhere. The system is easy to use and I was up and running in very little time. Thank you Security Monster. I will definitely recommend you to others looking for a quality system.
Shaun Simpkins
2021-07-26
Stephanie was a great help in supplying me the specialized parts I needed to complete moving a central vacuum in my garage. It's good to have a local source of central vacuum equipment in Eugene.
Shannon was working on a ladder when I approached her regarding my alarm, she was very pleasant and knowledgable. We have had problems with the sensor triggering alarm alerts the last few months. She immediately answered my questions regarding changing out the sensor. She installed a new light and sensor in the driveway, and we have had no issues since her past visit. Security Monster does a great job
Very professional staff !
We had multiple security cameras installed by Security Monster. High quality work done by knowledgeable techs. And the few times that we have needed it, their tech support has been excellent. Highly recommend them.
Key Features Of Commercial Security
Manage Multiple Locations
Utilize our apps to manage one or many locations. Easy to add/delete users, receive notifications when systems aren't armed or simply arm/disarm remotely if you or an employee forgot on your way out.
Integrations & Mobile Apps
We can bring many technologies together for single app interface. Integrate Video, Access Control, Lighting, and more into your Security Platform for easy use.
Industry's Most Secure Wireless Alarm System
2-Way Supervised Wireless from DMP is the most secure wireless available, giving you peace of mind while we protect your business. 2-Way Supervised Wireless keeps hackers out, so your security footage remains secure and for your eyes only.