Key Fob Entry System for Businesses in Springfield, OR
From key fob door lock systems to commercial door magnetic locks, we make access controls exceptionally easy and take care of the entire installation process. We create access systems that use both on-premise and cloud technology to ensure only those with the proper credentials can access your building. We also create hybrid solutions to fit your company's needs.
When you choose Security Monster, you get a comprehensive commercial access control system in Eugene or Springfield, Oregon. We work with you throughout installation and provide you with 24/7 technical support should any issues arise with your equipment. Our commercial access control system design begins with a conversation where we focus on understanding your commercial property's unique demands and your security goals. We then design a comprehensive commercial access control solution so you can enter your building with ease.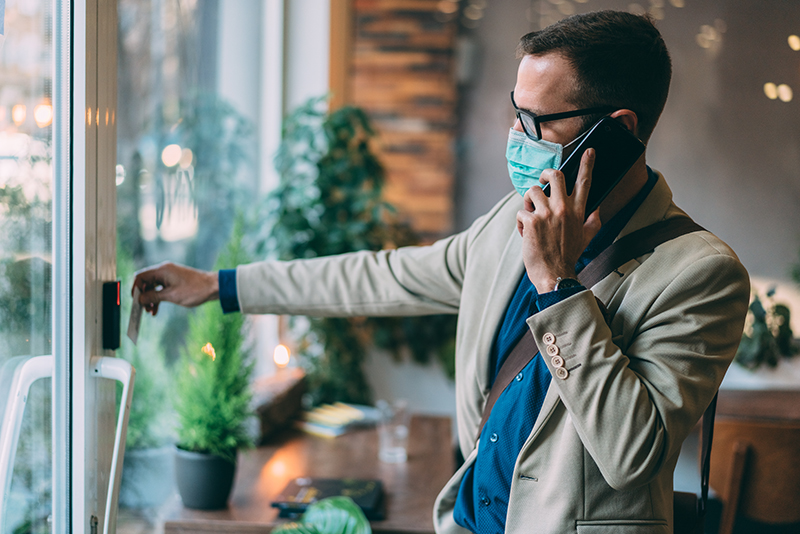 Security Monster creates integrated security solutions that combine the power of all your devices into one organized interface. Our all-in-one app interface allows you to view your security cameras, alarms and video monitors from one platform no matter where you are in the world. Our apps have both a Priority Group Chat feature that allows you to notify your staff about security issues and Remote Services features that let you see inside your business while remote.
In addition to our commercial access control solutions, we offer 24/7 professional monitoring services to protect your most valuable commercial assets. Our monitoring services use a UL-listed Five Diamond Certified Central Station that grants your setup additional backup power while integrating your existing alarms and networks. Our dedicated security personnel will monitor your business 24/7 to give you unparalleled protection and send guards to the scene if an emergency arises. Take charge of your building access and protect against intruders with Security Monster.
I have security monster at all of my store locations and now I have their protection at my home. Veronica in the office is very patient and amazing. Shannon was my installer and does a very professional job. The finish work of all of the equipment is perfect. If I thought I could steal her to work for me, I would!!!!!
Installation was smooth and very little disruption to our community. The installers were courteous and friendly. The cameras are amazing and now I can monitor our building from anywhere. The system is easy to use and I was up and running in very little time. Thank you Security Monster. I will definitely recommend you to others looking for a quality system.
Shaun Simpkins
2021-07-26
Stephanie was a great help in supplying me the specialized parts I needed to complete moving a central vacuum in my garage. It's good to have a local source of central vacuum equipment in Eugene.
Shannon was working on a ladder when I approached her regarding my alarm, she was very pleasant and knowledgable. We have had problems with the sensor triggering alarm alerts the last few months. She immediately answered my questions regarding changing out the sensor. She installed a new light and sensor in the driveway, and we have had no issues since her past visit. Security Monster does a great job
Very professional staff !
We had multiple security cameras installed by Security Monster. High quality work done by knowledgeable techs. And the few times that we have needed it, their tech support has been excellent. Highly recommend them.
Key Features
On-Premise & Cloud Options
We provide solutions that allow an on-premise appliance as well as cloud deployment for your access control system. Ask about our hybrid solutions as well.
Bluetooth & Mobile Credentials
Use your cellphone as your credential! Your employees can be issued a bluetooth credential on their mobile device while giving you the same visibility in reporting when they swipe at doors.
Intercom & Gate Control
Utilize a SIP or Network based Intercom product along with the ability to remotely open a gate from your mobile device or at the comfort of your computer anytime/anywhere.
Commercial Door Magnetic Lock Systems in Springfield, OR
At Security Monster, we have over a decade of experience in designing innovative commercial access control systems in Eugene and Springfield, Oregon, and integrating them into comprehensive security systems. We're the expert on commercial door magnetic locks and key fob door lock systems in Eugene, OR. Our commercial security monitoring services give you significantly more safety than do-it-yourself systems and provide you with ongoing technical and security support. When it comes to commercial access control solutions, trust the experts at Security Monster and receive unparalleled coverage and support.
Security Monster creates innovative custom solutions for more than just security systems. We're an all-around provider of business upgrades and have the technology and expert technicians necessary to bring your current systems into the future. Our business upgrade features include the following:
Ladder racks
Patch panels
Phone blocks
Give yourself peace of mind when you choose Security Monster commercial access control solutions and monitoring systems. We'll cover your business with everything it needs, from smart technology and wiring upgrades to 24/7 monitoring and Bluetooth credential services. For a security solution ready to protect you from any upcoming safety threats, choose Security Monster.