Residential Security System Installation in Eugene, OR
At Security Monster, we understand every home is unique and demands a customized security solution. Each of our state-of-the-art security systems gives you easy access to your alarms with apps that instantly alert you and provide real-time footage of your home. Our customized residential security systems consist of integrated alarms that notify you of developments within your home through security apps and central station monitoring for your peace of mind. We offer the following integrated equipment to work with your alarm: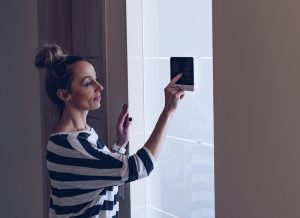 Security system apps: Our mobile security apps allow you to see real-time footage of your property no matter where you are in the world.
Doorbell video surveillance cameras: With a synchronized doorbell camera, you can stay alert to who's at your front door before they even make it inside. These cameras employ a secure two-way voice integration system so you can use your apps without raising your digital security risk.
Central station monitoring systems: If you need an extra set of eyes on your property, Security Monster offers 24/7 central station monitoring so you'll always be prepared if a breach occurs. With central station monitoring, we can easily dispatch guards and local authorities.
Security Monster walks you through the residential security alarm system process from the installation phase to the home monitoring stage. We begin installation with a meeting where we get to know your goals and your home's unique layout and demands. We then present you with the best alarm systems for your specific needs and oversee the entire installation so you have nothing to worry about.
At the end of the process, our experts will train you on how to use your residential alarms, including how to operate them on your mobile devices. With Security Monster, you can rest with peace of mind knowing you can ensure your home right from your fingertips.
I have security monster at all of my store locations and now I have their protection at my home. Veronica in the office is very patient and amazing. Shannon was my installer and does a very professional job. The finish work of all of the equipment is perfect. If I thought I could steal her to work for me, I would!!!!!
Installation was smooth and very little disruption to our community. The installers were courteous and friendly. The cameras are amazing and now I can monitor our building from anywhere. The system is easy to use and I was up and running in very little time. Thank you Security Monster. I will definitely recommend you to others looking for a quality system.
Shaun Simpkins
2021-07-26
Stephanie was a great help in supplying me the specialized parts I needed to complete moving a central vacuum in my garage. It's good to have a local source of central vacuum equipment in Eugene.
Shannon was working on a ladder when I approached her regarding my alarm, she was very pleasant and knowledgable. We have had problems with the sensor triggering alarm alerts the last few months. She immediately answered my questions regarding changing out the sensor. She installed a new light and sensor in the driveway, and we have had no issues since her past visit. Security Monster does a great job
Very professional staff !
We had multiple security cameras installed by Security Monster. High quality work done by knowledgeable techs. And the few times that we have needed it, their tech support has been excellent. Highly recommend them.
Key Features
Both Secure & Smart
Best of both worlds. Start with a quality and reliable security system that supports smart technology and home automation systems.
Customized For You
All of our systems are built around your wants, needs and budget. It's not about what we think you should have but rather what works for you and your family. With Security Monster, you'll always be in control of your home alarm and security systems and can customize the services you need.
Industry's Most Secure Wireless
2-Way Supervised Wireless is the most secure wireless available which means your system can't be bypassed while protecting your home and family.
Keep Your Home Safe With the Best Residential Security in Eugene, OR
At Security Monster, we have over 15 years of experience in creating customized security solutions for residential properties. We use only the latest state-of-the-art technology for our solutions, and we always invest in the most innovative and durable equipment for your home system. Between our monitoring services and apps that allow you to observe your home from anywhere in the world, your house will remain safe and secure wherever you go and leave you feeling assured.
Unlike do-it-yourself systems, Security Monster gives you ongoing technical support and a team of experienced technicians who are ready to assist you at any hour of the day. Our experts will help you install your security equipment, give 24/7 technical assistance, monitor your system and send guards when necessary. An investment in Security Monster ensures your whole home is protected from threats.
In addition to our alarms, we also offer several residential security and technology upgrades, including:
Home Security Systems and Surveillance.
Video Monitoring Systems and Guard Response.
Central Vacuums.
Audio and Visual Upgrades.