Is Your Businesses Security Strong Enough?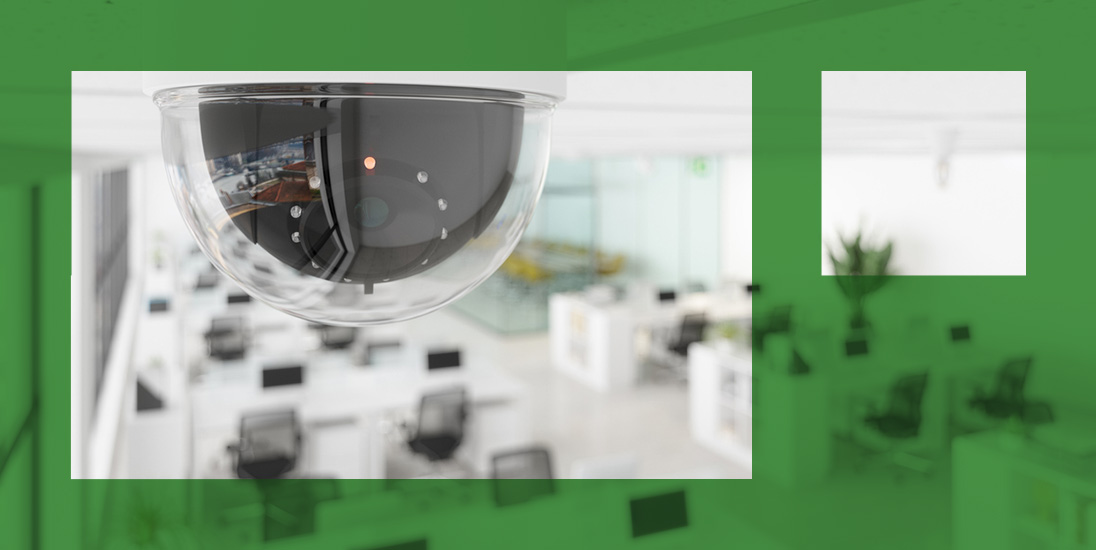 Commercial security systems are essential for all small- to medium-sized enterprises (SMEs). While cybersecurity is a hot topic, your business's physical security is also paramount. Whether you have teams coming and going from your business or your space supports a hybrid work model where no one may be in the office for days, increasing your commercial security is a necessary investment.
Let's review how you can tell if your business is secure and steps you can take to remedy insecure areas.
How to Tell if Your Business Is Secure
There are several questions and points you need to look at when reviewing your security system. If you don't have a security system currently in place, you'll need a professional to assess the area. If you have an existing security system, you might need to upgrade your setup or adjust certain parts of it.
Here are a few tips to know whether your system is outdated:
Your system doesn't automate: Newer security systems can be accessed via your mobile devices for constant access.
You only have an alarm system: It's recommended that you have many systems in place to create a thoroughly secure commercial space. If you only have one kind of system, you should add to it.
Your cameras are low-resolution: Investing in newer technology means you get a better video resolution from your cameras. Update your systems to get better visuals of each area.
Here are some questions to ask yourself as you evaluate your current system or consider a new one:
What system do you have in place already?
How old is your current system?
How can you improve the setup you have now?
What are current crime trends in your location?
Another idea is to put yourself if a potential thief's shoes. How would you enter your building? This thought process will give you insight into weaker security areas and show you how to improve them. Connect with a security professional to chat about how they could improve your current system or add a new one.
Benefits of Having an Updated Commercial Security System
Ensuring you have an upgraded, robust security system in place will drastically reduce the chances of criminal offenses on your property. The mere presence of security cameras can help deter criminals from taking action, especially when they're paired with other security measures. If a crime does occur, you'll have the tools and equipment in place to help you assess the situation in tandem with the authorities.
Some highlighted benefits include:
Improved safety and security: The people in your building will feel safer knowing you have a thorough system in place to monitor your commercial property.
Increased property value: If you rent commercial units in your building, you can help increase interest from renters by creating a secure environment.
Reduced costs: Newer security systems are energy efficient and have service plans. Older systems run the risk of breaking down and being unreliable.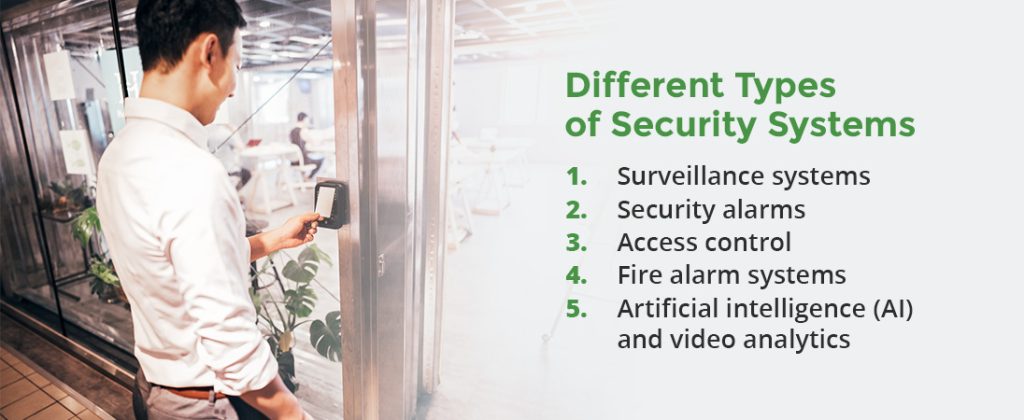 Different Types of Security Systems
Depending on your needs and building space, you may use a combination of different types of security systems. Some types of security systems available for SMEs are:
Surveillance systems
Security alarms
Access control
Fire alarm systems
Artificial intelligence (AI) and video analytics
1. Video Surveillance and Closed-Circuit Television
Security cameras can monitor the inside and the outside of a commercial property. They can either be stationary, focus on one area, or rotate and move. The footage is both recorded and monitored by security teams on-site or remotely.
Closed-circuit television camera footage has changed over the years and is now high-quality and high-resolution. These cameras provide clear images that can aid in identifying criminals or subjects.
Popular types of security cameras include:
Bullet: These are visible cameras that help to deter criminals and feature infrared lights. However, they can be vandalized easily, so you should use them with other types.
Dome: These cameras come with infrared technology and are easy to hide. They have wide-viewing angles.
PTZ controllable: These cameras can move and focus on capturing multiple video angles. These cameras can be moved with sensors or manually.
2. Security Alarms
Security alarms are ideal for alerting you and your security team to potential criminal behavior. When an action triggers your security alarms, you'll know immediately and can take the proper action. Security alarms can be connected to your phone and the central system for full transparency.
3. Access Control
In large commercial buildings, access control is usually standard, but SMEs can benefit from it, too. Having access control provides protection at the entry and exit points of your building and can provide restricted access to certain sections. A combination of access control and security cameras can ensure no one is opening the door for someone who shouldn't be allowed in.
4. Fire Alarm Systems
There are many trigger points for a fire alarm system. Some sensors are placed on the roof for equipment such as smoke and carbon monoxide detectors. There are also fire panic buttons, which you can install on walls to give people a way to trigger the alarm when they see the signs of a fire.
You can view fire alarm notifications on your phone and through your monitoring system. This feature ensures fire alarms can be determined as urgent or false.
5. AI and Video Analytics
At Security Monster, we can combine your surveillance system with the power of AI to bring you security updates and access to key information via your mobile device. This AI technology also gives you access to preventative technology features that allow you to create a healthy workplace.
You can do the following:
Perform headcounts
Enforce social distancing
Do contact tracing
Spot high-traffic hotspots and heatmaps
Other Tips to Increase Commercial Security
Outside of alarm installations and video monitoring, there are other ways a company can increase its security. A good starting point is to create a security policy for the office. Items outlined and answered in the policy should include the following:
Times when the doors are locked.
Who's assigned after-hours access.
What devices will remain open for safety purposes.
The line of control over security systems.
Who has access to information technologies.
Lost/stolen access card procedures.
Visitor access procedures.
Can Your Security System Be Hacked?
Smart security systems that are connected to the internet can be hacked if you don't follow proper procedures. Here are some tips to keep your security systems protected:
Use complicated passwords that you change frequently.
Set up two-factor authentication.
Ensure your system has end-to-end encryption.
Have tracker software installed on your device.
Get Security for Your Commercial Property With Security Monster
When upgrading your bsusiness's security system, choose a company with reliable products and solutions. Security Monster offers state-of-the-art technology and constant technical support to protect your property in Oregon 24/7/365. With various commercial system options, we can help you build and install a security system to cover all your needs.
To begin your security system upgrade, request a quote from Security Monster today.
Share: