What Kind of Security Camera Do I Need?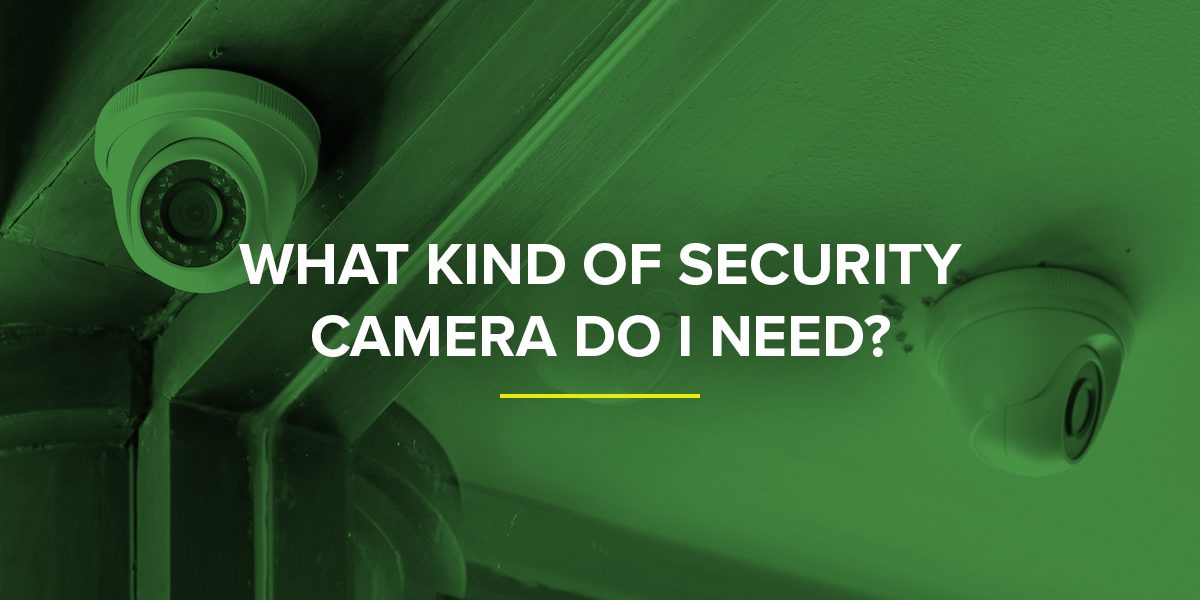 If you're looking to get a new security system for your home or commercial property, you're probably wondering where to start. Different types of security cameras have different strengths and purposes, so it's important to assess why you need a security system and find the best type of security camera and alarm system for your business or home. After evaluating your security needs, you then should research the various types of CCTV cameras to evaluate the best type of security camera for you.
What Are the Different Types of Security Cameras?
You first need to understand the basic types of security cameras to select the best type of security system for your needs. Although good for different purposes, most types of security cameras can be used on both commercial and residential properties. Most cameras also come in both indoor and weatherproof outdoor options. If you're planning on placing security cameras on the exterior of your home or business, be sure to select a camera that has an IP66 or IP67 weather resistance rating.
Popular types of security cameras include:
Bullet: One of the most popular indoor and outdoor security camera options, bullet cameras are highly visible to deter criminals yet professional in appearance. Their excellent range makes them great for monitoring large areas like parking lots, and most of these cameras are equipped with infrared lights. This option also may be slightly easier to install and move than some of the others, as they're typically simply mounted to a wall. However, bullet cameras are the easiest to vandalize.
Dome: The dome camera's name resembles its shape. Most dome cameras also come with infrared technology. Easy to hide, these cameras capture a wide viewing angle due to their shape. Their durable external casing also makes it more difficult for criminals to vandalize these cameras. However, when used outside and not sealed correctly, moisture can accumulate inside the dome and blur the picture.
PTZ controllable: PTZ controllable cameras, or Pan Tilt and Zoom cameras, can pan up, down, left and right and zoom in and out to capture multiple video angles. These cameras can either be manually operated or programmed to turn to a specific position or run patterns.
You can install bullet, dome and PTZ cameras on both your residential and commercial properties.
What Are the Different Types of CCTV Cameras for Businesses?
Various types of CCTV security cameras can work well in both a residential and business setting. However, certain kinds of cameras are better for homeowners or business owners, so it can be confusing to determine the best type of security camera for your business. Types of security cameras for businesses include bullet, dome, PTZ and wireless cameras.
Bullet Cameras
The bullet camera's excellent range makes it an excellent choice for industries such as manufacturing and agriculture. These cameras are also highly popular outdoor options, as they are weatherproof. A small flap atop the casing protects the camera from sun-glare and rain.
Because they are highly visible, they also signal to others passing by that they are being recorded. A bullet camera's easily recognizable shape can both deter criminals while also making the camera more vulnerable to destruction. However, mounting a bullet camera in a high-up spot makes them both more secure and ensures you're getting the best possible range from your camera.
Dome Cameras
Dome cameras are especially popular among businesses like retail stores, hotels and casinos due to their sleek appearance and 360-degree rotation. The unobtrusive, round glass creates a feeling of uncertainty for potential criminals or vandals by making it very difficult to see which direction the camera is pointing.
Dome cameras are suitable for both indoor and outdoor use. However, in low- or no-light situations, a bullet camera may be a better option, as the LED infrared lights can reflect off the dome's glass and interfere with the camera.
PTZ Cameras
Technically a larger dome camera with a protective built-in lens cover, you can use PTZ cameras both indoors and outdoors. PTZ cameras are one of the best options for remote viewing in large retail environments or at locations with valuable items to protect, like museums. Their pan and tilt feature allows for a 360-degree field of vision, while the zoom feature allows you to closely focus on particular subjects.
Wireless Cameras
Wireless cameras are a great option for businesses that want their cameras to blend in with a location's surroundings. Because they are discreet, they often blend in with the interior of places like churches, museums or stately homes. They're also one of the easiest CCTV camera options to install. Their footage is also stored on the internet and can be viewed from anywhere, making wireless a good option for business owners who are often on the go.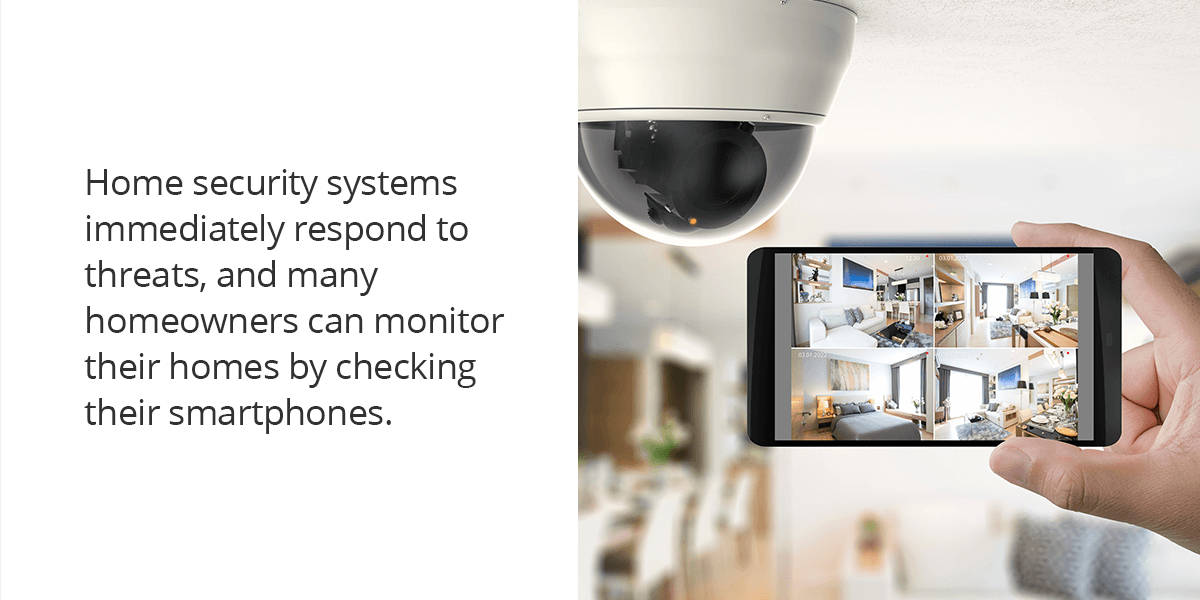 What Are the Different Types of CCTV Cameras for Home?
Having a strong home security system is crucial for keeping your family and belongings safe. In 2019, nearly 70% of all burglaries occurred on residential properties. Home security systems immediately respond to threats, and many homeowners can monitor their homes by checking their smartphones.
Explore the types of home security systems to figure out the best type of security camera for your home. Three popular types of CCTV cameras and security systems are wireless, wire-free and wired.
Wireless
Wireless security systems differ from wire-free systems, as wireless still requires a power cord plug-in to work. Because wireless systems aren't hard-wired in your home, they're much easier than wired systems to install, upgrade and move. Wireless cameras typically stream and store data over a wireless network, allowing you to monitor your home from anywhere. However, wireless systems are more vulnerable to hacking than their wired counterparts, and competing signals from devices like WiFi routers can occasionally cause interference and a weak signal.
It's crucial to note that wireless systems are different from wire-free ones. While wireless systems still require a power cord, wire-free security cameras are battery-operated and store your footage in the cloud. They also typically do not record footage 24/7, instead only when they detect motion.
Wired
Wired home security systems connect all security aspects of the system to a central control panel via physical wires underground or in the building materials. Although more difficult and costly to install than wireless systems, wired security systems are more secure and reliable. While hackers can virtually interfere with wireless systems, criminals would have to physically cut the wires to disable a wired home security system.
How Do I Choose the Right Security System?
Whether you're looking for security solutions for your commercial or personal property, you should evaluate your unique security needs to determine which security system will best serve you. Many security system options are available, so you're probably wondering about the best types of security cameras for your home or business. You should consider factors like what purpose you would like your security system to serve, what your desired picture quality is and whether you would like to install and monitor the system yourself or hire a professional.
Choose What to Monitor
Before choosing between types of security cameras, first evaluate which specific security threats you would like to address. Do you need to frequently monitor low-lit or non-lit areas outside? If so, you should consider types of CCTV cameras with up to 30-foot night vision or a camera with built-in floodlights. Have you been dealing with package theft? A doorbell camera with two-way talk might be the right choice for you.
If you're a homeowner, you should put cameras in both the interior and exterior of your home. However, if you're on a tight budget, it's best to start with interior cameras at main entrance points, central locations and frequently unattended areas. View your home as a burglar would, and place cameras accordingly.
Decide Your Desired Picture Quality
After deciding which CCTV security camera will fulfill your specific needs, you then should decide on which picture quality you prefer. Frame rate refers to the number of pictures a security camera will capture in order to create a video. Individuals seeking high-quality video should look for CCTV cameras with a high-definition resolution, also commonly referred to as 1080p or a 2-megapixel sensor.  However, some businesses like convenience stores and banks opt for cameras with lower frame rates, as these cameras are running 24/7 and require a lot of storage space.
Determine DIY or Professional
Finally, you'll want to determine whether you would like to install your own unmonitored or self-monitored security system or if you would prefer that a professional helps you install a more sophisticated, monitored system. A monitored security system is installed by a technician and monitors your property 24/7 to alert a professional monitoring company of potential dangers. The company will then contact emergency responders to respond to the emergency. These systems typically cost more than self-monitored or unmonitored systems, but they're more secure.
On the other hand, homeowners are able to install many simple security systems by themselves. While some of these systems are unmonitored, letting out a deafening alarm when triggered rather than contacting authorities, you can also install self-monitored systems that alert you to dangers via a smartphone notification.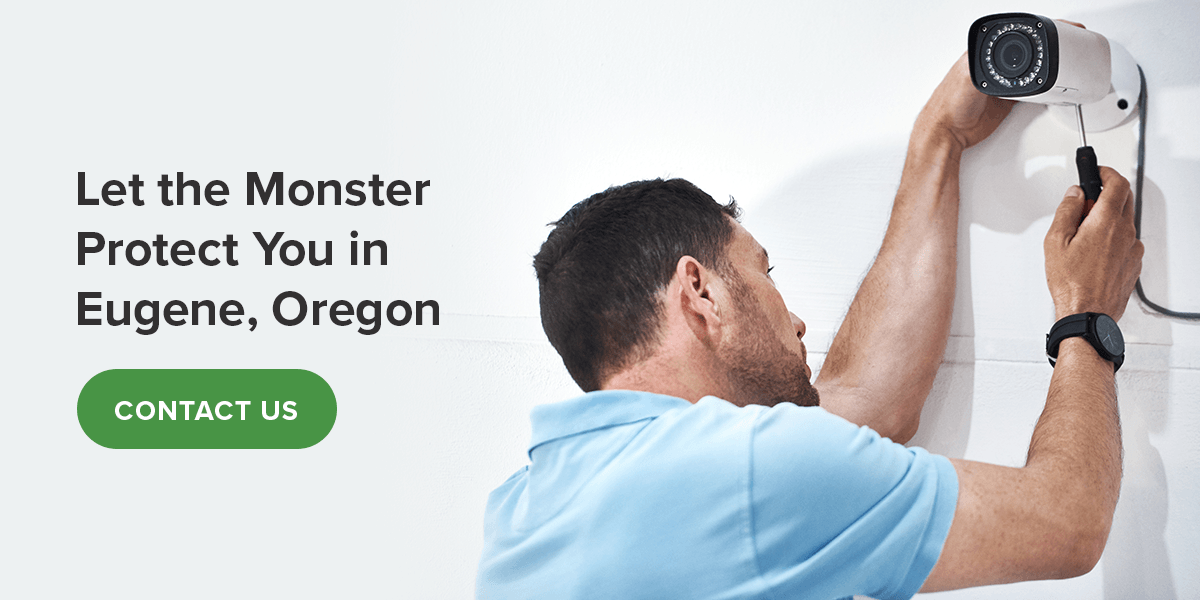 Let the Monster Protect You in Oregon
Security Monster has more than 15 years providing security solutions throughout Oregon. Are you asking yourself, "What kind of security camera should I get?" Our experienced team will help you evaluate your security needs before designing a comprehensive security system for you.
With our control panels and app, you can be anywhere in the globe and still rest assured your property is safe. After setting your system up, we'll walk you through how to use it and provide you with ongoing technical support. To learn more about how our team can help you pick the best type of security camera for your business or home or to request a quote, contact Security Monster today!
Share: